Despite economic headwinds and geopolitical instability, luxury consumers will continue to travel
Remember what the travel industry looked like one year ago? Travelers were hitting the road in droves, spending their ballooning savings, and satisfying their long-suppressed desire to travel. A new variant of COVID was spreading rapidly. And labor shortages among travel suppliers were causing disruption and dissatisfaction with how service was being delivered. Sounds a lot like Summer 2022, doesn't it? Of course, there are many differences between what's happening right now and a year ago. Many of those differences are clear from the results of a survey I just completed in partnership with Affluent Consumer Research Company, headed by Chandler Mount.

As we did one year ago, Chandler and I surveyed affluent U.S. consumers on their sentiments and plans for leisure travel. I'm happy to share a portion of the hot-off-the-presses results with you now. This year's survey was fielded in late June and posed many of the same questions as the year prior, in order to measure trendlines, while a new questions touched on current events. Once again, we targeted affluent and wealthy neighborhoods around the U.S. and invited those with incomes $250K and up, ages 25 to 74. The resulting sample represents 8 million affluent U.S. households, with an average household income of $914,000. 

The overall headline is positive: Despite economic headwinds and geopolitical instability, luxury consumers are still very keen to travel — 65% of them describe themselves as "excited" about international leisure trips. Their confidence in their personal financial situation is down slightly year over year, but still quite high, marking themselves at 74.8 out of 100 (compared to 80.8 last year). Interestingly, what alarms the affluent the most depends largely on their age: While geopolitical issues (such as the Ukraine war) are the most worrisome overall, with one in six expressing "extreme concern," the Gen X and Baby Boomer affluent (45+) are more concerned about the economy, while the Millennial set (25-44) say that personal safety, including COVID and violent crime, weighs more heavily. 

All that said, the issues troubling the affluent have only tempered, not extinguished, their exuberance for luxury travel. Here are 8 key takeaways from the survey results. There is much more data to share; if you'd like to see it, please get in touch with me directly. 

1. The Demand For Luxury Travel Isn't Waning 
Travel budgets are on the rise: 52% of affluent U.S. consumers say budgets are higher than before the pandemic and compared to the previous year (42%). Intention to travel remains around the same as it was last year, with 98% saying they have plans to travel within the next 18 months (vs. 98% last year). Last year's predictions are being outpaced by actual demand; for example, in 2021, 30% of respondents said they planned an international trip for the summer 2022. Now, in 2022, 42% are saying they plan to go abroad this summer. That points to sustained demand for luxury trips. (A companion study among U.S. general population consumers reveals a wide gap in traveler confidence, with an index of 39 for Americans overall and 68 for affluent consumers) 

The Takeaway: Luxury travel will rebound sooner and with greater intensity than the overall U.S. traveler market. As you budget for 2023 and beyond, expect steady demand from this recession-resistant market. Prioritize resolving challenges with staffing and delivering on service because you'll continue to be busy.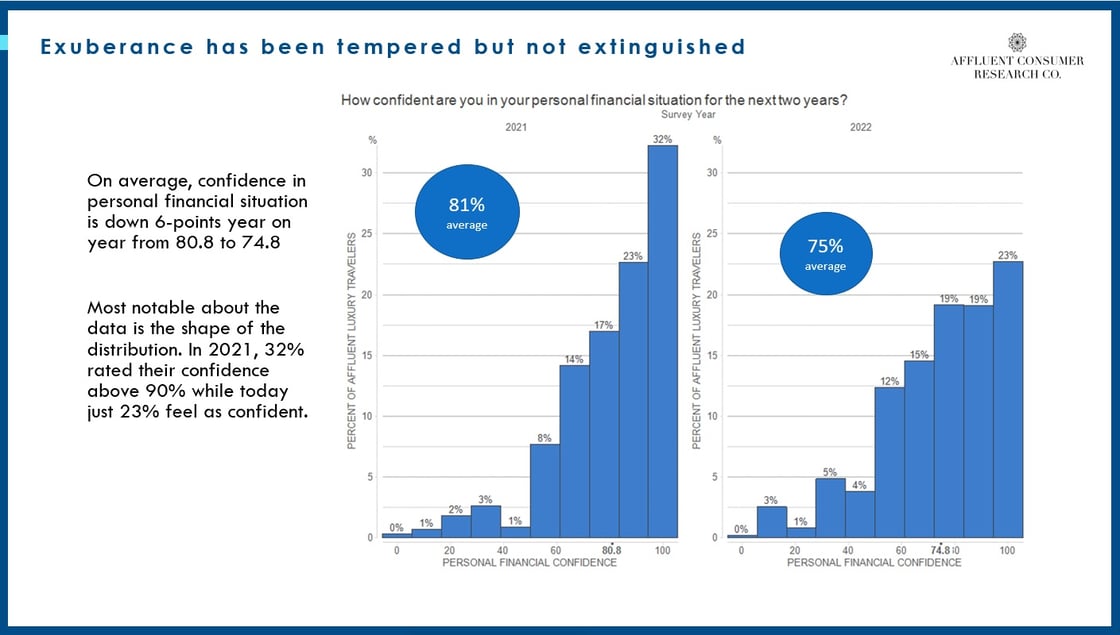 2. Travelers Are Spreading Their Wings 
Domestic trips remain far and away the most popular, with 98% of respondents saying they're planning trips within the Lower 48 in the next 18 months — the same number as last year. North America as a whole, including Mexico and the Caribbean, remains strong. Europe gained, with 54% planning a trip, vs. 43% last year. Asia got a huge bump (34%, up from 18%), as Southeast Asia reopens and travelers look ahead to China doing the same. Interest in Egypt and safaris pushed Africa up from 13% to an astonishing 25%. 

The Takeaway: With one out of four affluent luxury travelers planning to visit Africa by the end of 2023, all regions need to brace themselves for a surge. As more distant shores beckon, we can expect demand for the U.S., Mexico, and the Caribbean to begin flattening out but remain robust, given the unpredictables of the economy and COVID.

3. It's Critical to Get the Basics Right 
"Everyone is back to the 1960s," a luxury travel executive told me recently, summing up clients' attitudes about service standards and accommodations. People want old-fashioned comfort, familiarity, and reassurance, and they're gravitating towards brands they feel confident can provide that — and away from more lifestyle-driven, trend-led alternatives. In the survey, 76% of travelers indicated plans to stay with hotel brands with iconic, heritage properties, including Four Seasons, Ritz-Carlton, InterContinental, Fairmont, Rosewood, and others. Privacy, of course, never goes out of style, and private jets remain a popular option for the ultra-wealthy: 44% of respondents said they're likely to use one for an upcoming trip (up from 40% last year). Doug Gollan, Founder of Private Jet Card Comparisons, tells me that leisure demand for private jets continues to break records, driven by the unreliability of commercial flights and the perceived value by families in particular.

The Takeaway: Tastes will evolve, but for now it would be wise to focus on the bottom of Maslow's pyramid when it comes to the needs of luxury travelers: comfort, privacy, exclusivity, reassurance.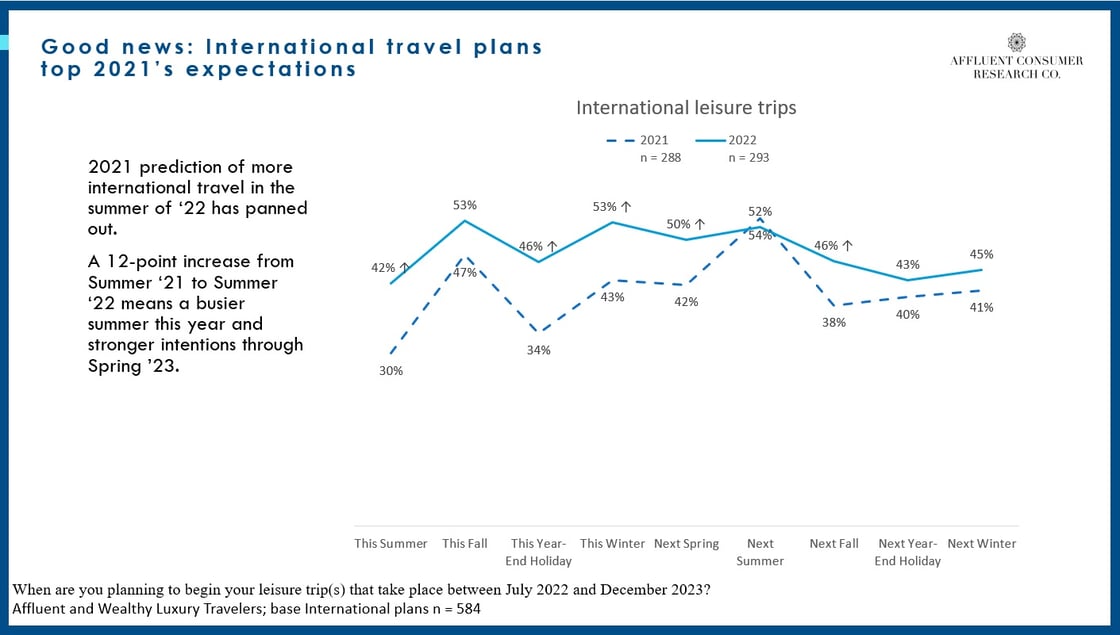 4. People Want to Take the "Big Trips" — Together 
I've been hearing anecdotally from travel advisors that clients are interested in taking once-in-a-lifetime journeys, and the survey data proves that out. Interest in safari/game reserve, overnight rail, and expedition cruise vacations has soared, with 21% of affluent luxury travelers planning them between now and the end of 2023, up 10 points since last year. The interest in expedition cruises — think Antarctica and the Galápagos — drove an increase in cruises overall, with 55% likely to purchase a cruise on their next trip. (That trend is certain to accelerate, with the CDC recently ending its COVID-19 program for cruise ships, and several lines subsequently loosening their requirements.) Demand for multigenerational trips is vigorous, with two-thirds of respondents planning one in the next 18 months. Moreover, one in five luxury travelers (20%) are planning multiple multi-gen trips, now and after December 2023. 

The Takeaway: Cruise lines, who've reassured consumers that traveling with them is safe, can build on their success by positioning more sailings as "life list" worthy. All luxury suppliers (including hotels and tour operators) should tailor their messaging to appeal to that "once-in-a-lifetime" mentality. As multi-gen travel becomes a regular occurrence, companies must accommodate the services they require, such as multiple rooms and suites, outdoor activities, and private chefs.

5. Consumer Confidence Is Key to Maximizing International Bookings 
Across the board, 85% of survey respondents said that the CDC's recent decision to drop testing requirements to re-enter the U.S. will translate into more travel for them. However, when we asked consumers to define their level of comfort with international, domestic, and local area travel overall, we can scale traveler comfort to learn more about them. We identified a "Least Comfortable" contingent who still believe the pandemic is going strong and that COVID infections will increase as protocols relax. Only 60% of these consumers are planning an international trip in the next 18 months (vs. 95% of the "Most Comfortable" cohort). They're also far more likely to demand easy access to information regarding COVID protocols and cancellation policies.When we looked at the size of this "Least Comfortable" group and the number of international trips they're planning and compared them to the plans of their more comfortable counterparts, we calculated a total of 2.2 million "untaken" trips — a huge amount of travel and revenue being left on the table, in large part because of discomfort around COVID.

The Takeaway: With infections on the rise again around the world, it's still essential to talk about your COVID policies. The more confident consumers feel about traveling, the more likely they are to book. Don't leave those 2.2 million trips on the table!

6. Flexibility Is Still Crucial 
Most luxury travelers still pay attention to cancellation policies when booking trips, and a majority (69%) still want to see fee-free trip cancellations. Indeed, the "Most Comfortable" contingent — those who are the least reticent about traveling — are likelier to insist on a flexible cancellation policy, probably because they're concerned about the uptick in COVID cases and fearful of getting sick and having to cancel. Moreover, the number of luxury travelers who say they've booked a "Plan B" trip in case the first is canceled has increased more than 50% since last year — to 65% from 43% — likely because of concerns about flight cancellations as well as changeable COVID protocols. That "trip stacking" trend has the potential to wreak havoc on inventory management. 

The Takeaway: Flexible, consumer-friendly cancellation policies are still a prerequisite for many luxury travelers. However, to dampen the impact of trip stacking, you might consider modifying your terms — for example, requiring nonrefundable deposits, or allowing clients to transfer bookings to another property in your brand's portfolio. That kind of collaboration can work globally: For example, if Asia is closed then perhaps South Pacific partners can honor the booking.
7. Travel Advisors Have Become Even More Essential 
Luxury travelers learned a critical lesson last year: Having a travel advisor you trust is key to a successful trip. In 2021, 40% used a patchwork of advisors to make plans; this year, that number decreased to 22%, with a corresponding increase in those working with one specific advisor (43%). The survey also recorded a 5% lift in the likelihood of using an advisor in the next 18 months. Given the renewed focus on experiences, it's not surprising more luxury travelers are coming to recognize the value of an advisor's expertise. 

The Takeaway: Make sure your top advisors have plenty of support, because luxury consumers are planning more trips — and they want YOU to handle it.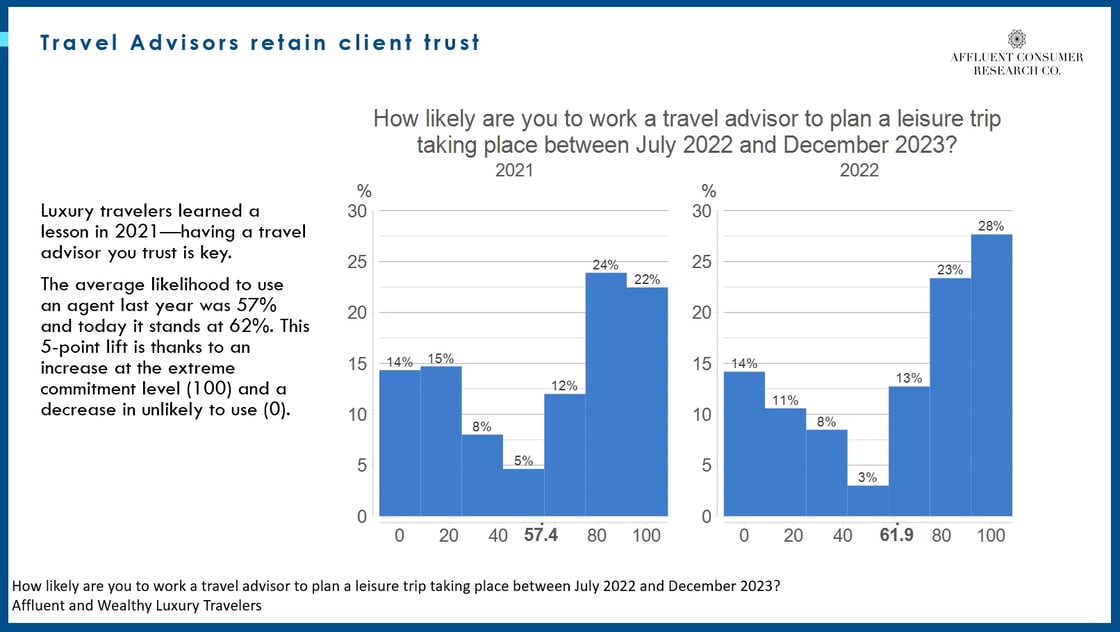 8. The Younger Generation Uses a Different Yardstick to Evaluate Their Trips 
The younger (25-44) generation of affluent and luxury consumers has a more personal, values-based mindset than their older counterparts when it comes to decision making about travel plans. The younger generation are far more likely to say that the way they evaluate a luxury brand has changed since the pandemic (59% vs. 41%) and that they're more willing to trust a luxury brand when they hear from its leadership (58% vs. 43%). Interestingly, when we asked which traits are most important when selecting a luxury brand, travelers of all ages agreed on core attributes, such as "fun," "memorable," "beautiful setting," and "high-quality materials." But the 25-44 set were more likely to choose traits like "personalizes experiences for me"; "brand's values fit my own"; "uses new technology"; and "follows sustainable practices." 

The Takeaway: Defining and communicating your brand values remains critically important to attracting the millennial generation. But keep your eye on the ball when it comes to delivering the attributes that everyone expects.