I recently worked with Walpole, the association for British luxury brands, and VisitBritain to create a luxury hospitality summit in New York City. Walpole, whose members include everyone from Bentley and Harrods to Claridge's, The Macallan, and Gleneagles, whose new Townhouse is featured above, presented a new qualitative research study that explores the major themes affecting affluent consumers and their travel behaviors. While it focused on the UK, I found the report to be an excellent summation of what all of us are dealing with right now, so I'm sharing the key takeaways with you here. (The full report, produced by the London branding agency Notable, is available for download here.)
 
Wherever you are reading this in the world, I think you'll find the report's conclusions important and worthwhile. It identifies two macro themes influencing expectations of travel and luxury: Fragility, rooted in the pandemic and the perilous state of the planet, is prodding consumers to re-engage with the world while working to protect it. Fluidity stems from the blending of work, leisure, and family as well as new thinking about gender and cultural identity — leading to changing definitions of luxury, wellness, and culture.
 
Within that context, the report details three trends that luxury travel brands should be paying attention to. The first, Make It Count, refers to consumers' desire to make the most of every trip or purchase — whether that means to "go further," seeking out viscerally authentic experiences in far-flung destinations, or to "go deeper," finding more meaningful connections to familiar places. Many consumers are combining the two, taking a few trips that bring them out of their comfort zone, and also re-engaging with the places they know and love by interacting more with the local community. "The search for profound authenticity means that the power of the local, small producer is stronger than ever," the report says — meaning that hotels and other suppliers ought to play up their partnerships with local suppliers, perhaps even more so than with traditional luxury brands.
 
"Going deeper" can also mean booking (and paying for) exclusive experiences, such as meeting the chef or visiting an artist's studio. These types of unique, person-to-person interactions can elevate a trip and make it more satisfying and memorable — just what the affluent traveler wants right now.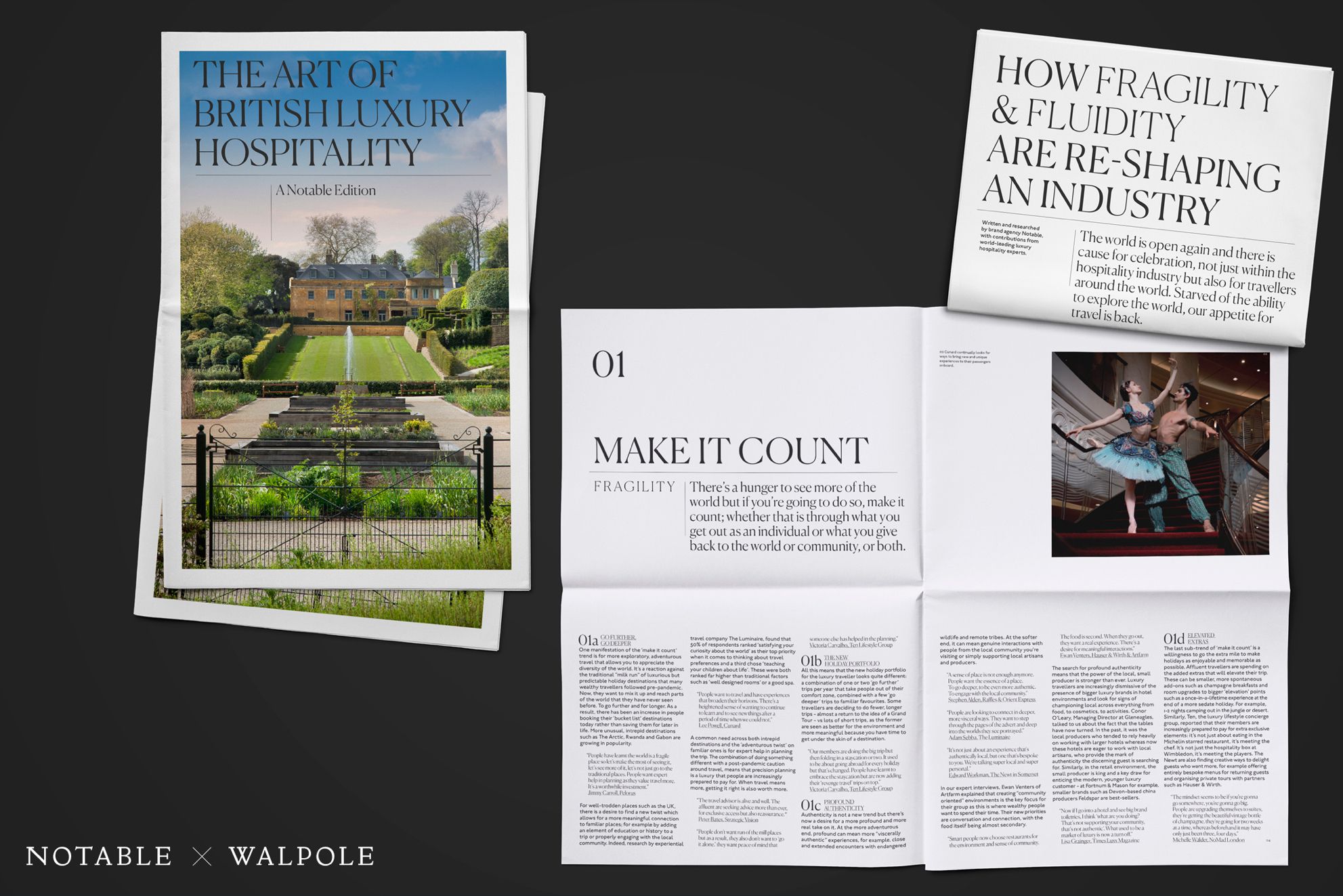 The second trend, Protective Interests, reflects renewed emphases on family and privacy, as well as concerns about sustainability and valuing staff. People cherish their relationships more than ever, both with their loved ones and with the people who serve them, and the travel experience needs to reflect that. Luxury travelers want accommodations that feel as close to "their own place" as possible, but with service that's bespoke and thoughtful and feels genuine. That requires treating staff very, very well, ensuring they feel valued and have opportunities to grow — which in turn gets them to provide better service to guests.
 
A corollary of this trend is luxury travelers' concerns about sustainability, which is not a new issue but one that deserves our continued attention. Affluent consumers want to see suppliers go beyond the table stakes — recycling, reducing water and energy use, and the like — and actively work to improve the environment. That's important not just to Gen-Z'ers but also to corporate clients whose booking policies are becoming increasingly greener. We all need to be thinking about what our angle on sustainability is and how to communicate that authentically.
 
The third trend, Fluid Living, Fluid Lifestyles, points to hybrid approaches to life, including wellness and luxury. It's clear that post-pandemic, the blending of work, leisure, and family has become the norm, with many consumers now putting leisure time first and fitting work around it, rather than the "old way" of tacking a few days onto a business trip. That translates into longer stays in places where they can both work and relax with their families.
 
Fluidity also applies to wellness, which affluent consumers see as an important investment, not just an indulgence. To that end, they're educating themselves on a variety of approaches, including non-Western therapies such as Ayurveda and Chinese medicine, and focusing on emotional as well as physical well-being. The more inclusive and less rigid your wellness offerings, the more appealing they'll be to this market.
 
Similarly, luxury hospitality these days draws from a wider pool of disciplines, including art, food, and fashion. Hotels opened recently by gallerists Hauser & Wirth (The Fife Arms in Scotland) and designer Alex Eagle (Oakley Court in Windsor) are among the hottest places to stay in the UK, and hotel brands from Nobu and LVMH are expanding globally. The Soho House concept — part members club, part hotel, with programming that caters to a wide variety of interests — is being emulated by other brands worldwide.
 
What with the Ukraine war, recession fears, climate change, divisive politics, and more, fragility will clearly be with us for a while, and fluidity seems to be the coping mechanism luxury consumers are using. As long as we're courting those consumers, we need to be fluid as well — adapting our products as they adapt their preferences. I like the way the Walpole report interprets those behaviors and puts them into an easy-to-digest framework.
 
How about you? How are these trends playing out from where you sit? Are there other shifts you've noticed? Let's keep the conversation going!